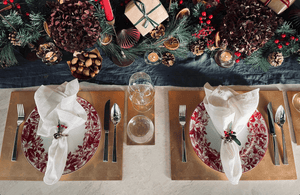 About Posh Trading Company
Founded in 2015 by award-winning interior designer Sarah Ward, Posh Trading Company has become a staple in luxury homeware, offering a stunning collection of home accessories, furniture and gifts. It's no surprise that Posh Trading Company is one of the top destinations for luxury homeware, becoming a leader in the industry. Providing customers with an exquisite selection of high-end products that are sure to make any home look its best .
As Found In:
Tableware that elevates
Accessorise your dining table to include the perfect finishing touches with our collection of luxury trays, gold placemats and coasters, silver placemats and coasters, black placemats, matboxes, coastboxes and more to elevate your dining experience.
View Blog
As seen In:
What are customers saying?
★★★★★

' Inspirational and classy '

Charlie Morris
★★★★★

'Beautiful quality and the team offered great advice'

Leiana Jones
★★★★★

'The perfect gift and the perfect dinner party essential!'

Andrew Lamb
★★★★★

' Bought the matbox set over the Christmas period for a dinner party and they went down a treat with the guests, thank you!'

Corry Sweet
★★★★★

'Purchased the Silver Leaf Matbox for my mothers birthday present! Beautiful!! '

Charlie Terry
★★★★★

' Love the Silverleaf Matbox! Perfect addition to a dinner party.'

Kat Ward
POSH Trading company offers luxury homeware to elevate your living experience. Our tableware in particular has a range of stylish placemats, unusual placemats, luxury faux leather placemats and heat resistant placemats UK. These are the perfect addition to any dinner table and capable of dealing with hot plates.